Limestone Springs Rainbow Trout Sliders
Ingredients:
Limestone Springs rainbow trout
Seasoning (if desired)
Potato rolls (small to medium insize)
Cole slaw
Directions: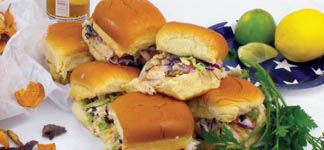 Preheat grill between 350° to 400° F. Place rainbow trout skin side down. If desired, lightly season with lemon pepper or a simple fish seasoning. Grill rainbow trout skin side down with the lid closed. (A simple grilling tip is 7 minutes per inch of Rainbow Trout flesh.)
When the entire flesh turns white in color, take a thin grill spatula directly between the skin and the flesh and remove trout from grill, leaving the skin behind.
(After Trout has been removed you can peel off the skin from the grill, which makes what we call great trout bacon!)
Place the desired amount of grilled Trout inside a Potato Roll and top with your favorite local cole slaw, serve immediately... and Enjoy!
Limestone Springs Red Chile Slaw
Ingredients:
1 head green cabbage, core removed, coarsely sliced
6 red or golden apples, peeled, cored and finely sliced
1 medium sized red onion, finely sliced
Kosher salt
1 cup Hellman's mayonnaise
Ancho or new mex chiles to taste, ground
Honey
One large lemon, freshly squeezed juice
1 small bunch of flat leaf parsley, washed, dried and coarsely chopped
Directions: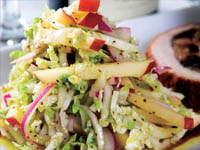 At least two hours before you want to serve the slaw, combine the cabbage, apples and red onion in a large bowl and toss to combine.
Season with kosher salt as desired.
In a bowl, mix the mayonnaise together with the desired amount of ground chiles and honey and season with lemon juice and salt .
Toss the cabbage mixture together with the dressing, allowing the cabbage to absorb the mayonnaise and adding more as needed. Taste the slaw, correct the seasoning, add the parsley and stir to combine. Refrigerate until; ready to serve. Enjoy!
Limestone Springs Fish Tacos
Ingredients (fish):
4 Limestone Springs trout fillets, skin removed, cut into small pieces
Ingredients (batter):
2 cups unbleached all purpose flour
1 cup (room temperature) amber or dark ale
½ t baking soda
Kosher salt
Hot sauce to taste
Ingredients (tacos):
Grape seed oil / or Canola Oil
Four 6-inch flour tortillas
2 ounces sour cream/ Mexican crema
Zest and juice of one lime plus extra wedges for garnish
Thinly sliced green cabbage
Shaved and rinsed red onion
GuacamoleRadish julienne
Fresh tomato salsa
Directions: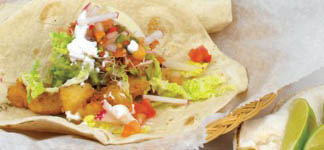 Make the batter fifteen minutes before you want to cook your tacos. Whisk the beer into the flour until it is smooth and season to taste with salt and hot sauce. Add the fish to the batter and let it sit for ten minutes.
To prepare the tacos, heat oil in a heavy gauge pot or Electric fryer until it is approximately 400 degrees / just before smoking. Set up a cookie sheet with several layers of paper towel and when the oil is hot, fry the fish in batches until it is golden, crispy and floats. Drain on the tray and season well with salt while the fish is hot.
Heat the tortillas directly on the burner of the stove or in a cast iron skillet or on a griddle until they are warm on both sides. Combine the sour cream with the lime juice and zest and garnish the tacos with the cabbage, sour cream and the rest of the desired toppings. Fold the tacos over and serve promptly. Enjoy!
(Yields 4 tacos)
Smoked Trout Chowder
Ingredients:
Extra virgin olive oil
8 ounces double smoked bacon, diced small
2 large yellow onions finely diced
4 stalks celery
1 bay leaf
1 sprig fresh thyme
4 ounces unsalted butter
1 cup AP flour
2 1/2 quarts natural clam broth
6 large Yukon gold potatoes, scrubbed and cut in a uniform dice
1.5 quarts heavy cream, reduced by half
Tabasco sauce
3 or 4 Limestone Springs trout filets, brined, smoked and flaked
1 small bunch flat leaf parsley, washed, dried and coarsely chopped
Sea salt and freshly ground black pepper
Directions: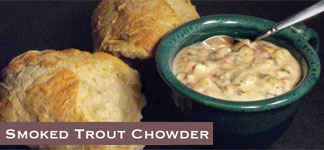 Heat up a large heavy bottomed sauce pot and when it is warm, add oil to just cover the bottom of the pan. When the oil is warm, add the bacon and render it in the pot until it just begins to turn crispy. Using a slotted spoon, remove the bacon from the pot and reserve. Add the diced celery and onions to the pot and sweat them over a low flame until they have become very soft and opaque, about 10-15 minutes. When the vegetables are cooked, there should be an abundant amount of fat swimming in the pan. Supplement with unsalted butter and melt. Stir well to combine and then sprinkle the vegetables with flour and stir together, slowly adding flour until the fat and vegetables become a paste like peanut butter in consistency.) Cook the paste together over a low flame for about ten minutes or so, stirring frequently and allowing the roux to brown very slightly.
While you are cooking the roux, warm the clam broth and add the bay leaf and thyme. Put the roux into a heavy gauge pot, add the warm broth and beat with a whisk to incorporate the roux and the broth. Scrape the bottom of the pot well to make sure to incorporate all the roux into the chowder, and cook together stirring constantly for about twenty minutes or until the floury taste has dissipated. Add the potatoes, stir well to combine, and cook until the potatoes are tender. Add the reduced heavy cream and cook until the chowder comes together, Season with Tabasco and just before serving, add the trout, parsley and bacon. Stir, taste, add salt and pepper as needed and enjoy!
(Yields 1 gallon)
Limestone Springs on Springs
Smoked Trout Salad with Bitter Greens and Tangerine
Ingredients:
2 brined and smoked trout fillets, bones and skin removed, gently broken into large pieces
1 bunch watercress, stems removed
2 ounces baby arugula, picked over
1 head radicchio and one Belgian endive, both split in half, core removed, lightly oiled and lightly grilled
1 shallot, minced
Fleur di sel or other finishing grade sea salt
Coarsely ground black pepper
Orange, tangerine, or tangelo supremes (seeds and membrane removed)
Extra virgin olive oil (good quality/ not too strong) or grape seed or walnut oil
2 ounces pecan halves, roasted and salted
1 cup tangerine juice, reduced by ¾ and strained
Balsamic reduction (or pomegranate molasses)
Directions: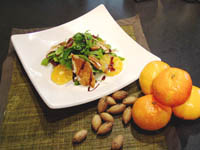 Combine the trout and greens in a large salad bowl. Slice the grilled endive and break apart the radicchio and add them to the bowl. Add the shallot
and season sparingly with salt and pepper. Gently add the citrus supremes to the bowl and add a small amount of oil to salad to season it. Toss together gently, add the pecans and toss again. Divide salad between four plates, making sure to collect the booty from the bottom of the bowl and distribute according to how well you like your guests. Drizzle the salads with tangerine juice and the balsamic reduction and serve immediately with the cold beverage of your choice. Enjoy!
Serves 4
Smoked Trout Spread
Ingredients:
3 fillets brined and smoked trout, skin and bones removed and coarsely flaked
3 ounces plain whole milk yogurt, preferably organic
1.5 ounces crème fraiche
1 T freshly squeezed lemon juice
extra virgin olive oil ( fruity and mild )
1 teaspoon freshly chopped shallot
Sriracha or other hot sauce to taste
sea salt
fresh dill weed, sliced
Directions: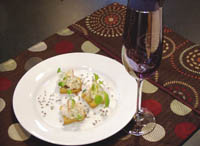 Place all the ingredients except for the dill and the olive oil into the bowl or a food processor and pulse until combined. Taste , correct seasonings, and add olive oil to moisten / flavor spread. Pulse again to combine and remove from food processor and transfer to bowl. Gently stir in the fresh dill. Taste and correct seasonings.
Smoked Trout Spread Canapés:
Use the crackers or breads of your choice, add a dollop of the trout spread and dress it up with sprouts, micro greens, shaved apple or julienne celery root. A little champagne with it sure wouldn't hurt either!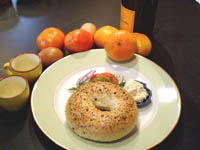 Smoked Trout Spread Brekkie
Substitute smoked trout spread (or use the leftovers ) for smoked salmon or your usual schmear on your morning bagel- you'll be glad you did!
Yields 1 pint
TLT & A (Trout, Lettuce, Tomato, & Avocado)
Smoked trout sandwich with lettuce, tomato, and avocado. 
Ingredients:
Two slices sandwich bread of choice, lightly toasted
1 fillet brined and smoked trout, bones and skin removed
Favorite mayonnaise
Delicious tomatoes (heirloom or vine ripened)
Ripe avocado
Shaved red onion
Greens of choice/ arugula, watercress, sunflower sprouts, etc)
Sea salt
Freshly ground black pepper
Directions: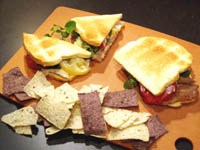 Carefully and patiently assemble sandwich for self and possibly one for lucky friend. Open a cold beverage and enjoy mightily. Tell lucky friend you smoked the trout yourself and prepare to harvest praise.
Yields 1 delicious trout sammy
Smoked Trout Salad
Ingredients (salad):
2 whole smoked trout, filleted and skinned
1 head of leaf or Romaine lettuce, torn into bite-sized pieces
1 1/2 cup sliced mushrooms
1 small onion, thinly sliced
1/2 red pepper, thinly sliced
1/4 cup seasoned croutons
Ingredients (dressing):
1/3 cup vegetable oil
1/2 tsp. salt
1/4 tsp. dried basil
2 tbsp. red wine vinegar
1/4 tsp. freshly ground pepper
Directions:
Mix dressing in small mixing bowl. Break fillets into bite-sized chunks; add with mushrooms to dressing. Stir to coat trout and mushrooms. Marinate in the refrigerator 30 minutes. Meanwhile, combine remaining salad ingredients in separate bowl. When ready to serve, toss all ingredients and serve on salad plates.
Yields 4 servings
Broiled Trout Fillets
Ingredients:
1 1/2 tsp. grated lemon peel
1/2 cup fresh lemon juice
1/2 cup salad oil
1 clove garlic, pureed
1 tsp. sugar
1/4 tsp. pepper
1 tsp. salt
1/2 tsp. oregano leaves, crushed
6 trout fillets (about 2 lbs.)
1/3 cup sliced stuffed olives
Directions: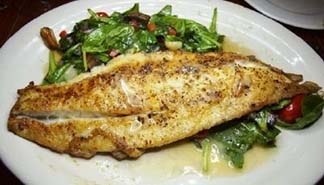 Combine lemon peel, lemon juice, salad oil, pureed garlic, sugar, pepper, salt and oregano leaves, blending well. Arrange fillets on well greased broiler pan and brush well with sauce. Broil 4 inches from heat for 3 to 5 minutes. Turn and brush with sauce and broil 2 to 3 minutes more, or until fish flakes with fork. Add sliced olives to remaining sauce and heat. Serve over trout.
Yields 6 servings
Deluxe Trout Chowder
Ingredients:
1 lb. trout fillets, fresh or frozen
1/4 cup chopped bacon or salt pork1/2 cup chopped onion
2 cups boiling water
1 can (1 lb.) tomatoes
1 cup diced potatoes
1/2 cup diced carrots
1/2 cup chopped celery
1/4 cup catsup
1 tbsp. Worcestershire sauce
1 tsp. salt
1/4 tsp. pepper
1/4 tsp. thyme
Chopped parsley
Directions: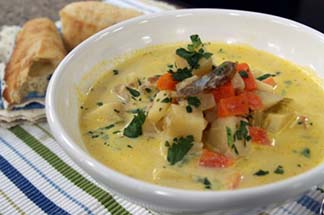 Thaw frozen fish. Remove skin and bones. Cut fish into 1 inch pieces. Fry bacon or salt pork in a 3 quart saucepan until crisp. Add onion and cook until tender. Add water, vegetables, catsup, and seasonings except parsley. Cover and simmer 40 to 45 minutes, or until vegetables are tender. Add fish, cover and simmer about 10 minutes longer, or until fish flakes easily when tested with fork. Garnish with parsley.
Yields 6 servings
Baked Trout III
Ingredients (fish):
2 trout fillets
1 tbsp. melted margarine
1/4 cup bread crumbs, unseasoned
1/4 cup chopped pecans or almonds
Pepper
Pam or similar vegetable spray
Garlic granules or unsalted garlic powder
Ingredients (sauce):
1 clove garlic, pressed or minced
1/4 chopped onion
Dry white wine
Directions: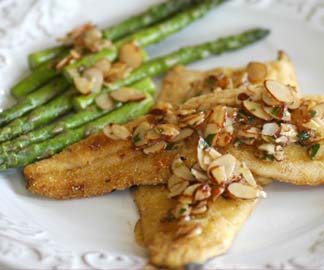 Place trout fillets in baking dish sprayed with Pam. Coat lightly with melted margarine. Combine chopped nuts and bread crumbs and sprinkle mixture lightly over fillets. Season with garlic and pepper. Bake at 450 degrees F for 10 to 12 minutes. Meanwhile, sauté onions and garlic in nonstick skillet in remainder of margarine. Add wine, just enough to cover bottom of pan, and simmer gently for 2 minutes. Keep warm. Add baked fillets gently to sauce. Heat for 30 seconds. Remove fillets to serving dish and cover with sauce.
Baked Rainbow Trout
Ingredients:
1 cleaned rainbow trout of 1 to 2 lbs. in weight
2 oz. Butter
Slices of lemon or orange
Herbs of your choice (parsley, chives, oregano, basil)
Salt and Pepper to taste
1 cup of white wine
Method: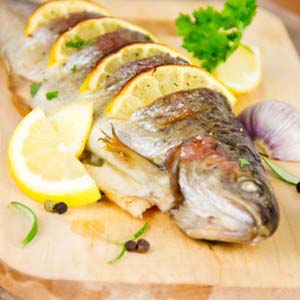 Preheat oven to 360 degrees Fahrenheit. Line a baking tray with a sheet of aluminum foil and place the trout on top. Make a few diagonal cuts in the trout skin to help the flavors penetrate and then season inside and out with the other ingredients.
Fold the foil over the fish to make a parcel. Try and fold the edges over to create a seal to retain the juices. Place in a preheated oven and cook as follows. For a whole trout, the fish will need to be in the oven for 35 minutes per lb. If using rainbow trout fillets you can cook for 15-20 minutes. The fish should be flaky, moist and no longer translucent when completely cooked.
Grilled Rainbow Trout Fillets
Ingredients:
4 rainbow trout fillets
1 White onion, sliced
4 Gloves garlic, crushed
1 Lemon, sliced
Butter
Salt and pepper
Directions: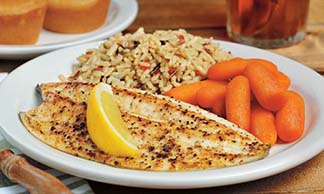 Preheat grill to a medium high heat. Rub each trout fillet with crushed garlic.
Place each fillet in an aluminum foil pack and top with a dollop of butter, a couple of sliced onions, and a couple sliced lemons. Salt and pepper to taste. Close foil pack to trap juices and flavors in. Cook on medium high heat for 5-7 minutes. Unwrap and enjoy!
Almond Fried Trout Fillets
Ingredients:
¼ Cup all purpose flour
1/8 tsp pepper
1 egg
3 tbsp milk
1 cup cracker crumbs
½ cup sliced almonds, coarsely chopped
1 ½ lbs. rainbow trout fillets (about ½ in thick)
2 tbsp butter
¼ cup plus 1 tbsp vegetable oil
Directions:
Heat oven to 450 ̊F. On a plate mix flour and pepper. In a pie plate blend egg and milk. On another plate mix cracker crumbs and almonds.
Cut fish into serving size pieces and coat with flour. Dip in egg/milk mixture, then coat with almond mixture, pressing lightly.
In 13 x 9 inch baking pan combine butter and oil. Place pan in oven for 5 minutes to heat oil. Add fish to pan, turning to coat with oil.
Bake 5 minutes, turn fish and continue to bake until fish is golden brown and flakes easily at thickest part, about 5 minutes. Drain on paper towels and serve with lemon wedges if desired.
Deep Fried Rainbow Trout Fillets
Just like we make at our Bass Pro Shop demonstrations!
Ingredients:
6 to 8 rainbow trout fillets
1 pint of milk
3/4 tbsp sugar
Lemon pepper seasoning
Seafood breading
3 tbsp flour
Peanut oil
Directions: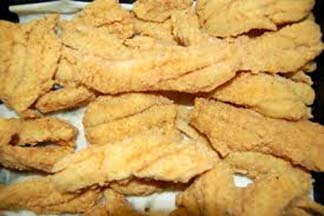 Put peanut oil in deep fryer and set temperature to 360 F ̊. Mix milk and sugar together in a container.
Mix seafood breading and flour together in a separate container. Dip trout fillet in milk mixture.
Remove fillet from milk mixture and sprinkle lemon pepper seasoning directly onto the fillet. Coat the fillet in the breading mixture on both sides and put into deep fryer.
Cook for 5-6 minutes or until fillet is golden brown.
Smoked Trout Cakes with Optional Horseradish Dressing
Just like we have prepared at the Great American Outdoor Show!
Ingredients:
1 ½ cups flaked smoked rainbow trout (One 6 oz. package of Limestone Springs Boneless Hickory Smoked Trout)
2 Tbsp chopped green onion
1/2 tsp grated lemon peel
1/4 tsp ground pepper
1 large egg
1/4 cup whipping cream
1 cup fresh breadcrumbs (French bread works best for this)
Directions: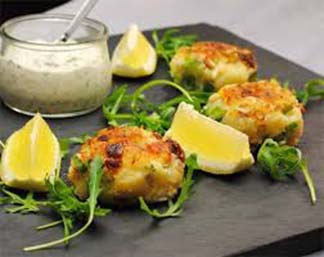 Whisk together egg and cream. Stir in onion, lemon peel, pepper, smoked trout and ½ cup of breadcrumbs.
Mix all ingredients together and form into 4 cakes/patties. Place remaining breadcrumbs onto a plate and roll the cakes in these breadcrumbs, coating them completely.
Preheat a nonstick pan at a medium to medium-high heat with approximately 2 tbsp olive oil. Add two trout cakes at a time, cooking until lightly golden brown. Approximately 3-4 minutes per side.
Optional Horseradish Dressing
Ingredients:
1 ½ tbsp. sour cream
1 ½ tsp olive oil
2 tsp prepared horseradish
2 tsp finely chopped fresh dill
1/2 tsp white wine vinegar
Directions:
Whisk all ingredients together in a bowl except for the olive oil. Once all ingredients are mixed slowly whisk in the olive oil. Serve with smoked trout cakes and a fresh arugula salad.
Smoked Rainbow Trout Brine
Large Batch
45 oz salt (about 3 lbs)
6 oz dark brown sugar (1 lb)
32 oz molasses
4 oz lemon juice
8 gal water
Use 2-3 gal of HOT water to dissolve salt and sugar. Add remaining water and molasses
Small Batch
17 oz salt
6 oz dark brown sugar
12 oz molasses (Brer Rabbit bottle)
3 gal water
1.5 oz lemon juice
Fat & Calories Comparison
Based on a 3oz serving
| | | |
| --- | --- | --- |
| | Fat (grams) | Calories |
| Rainbow Trout | 4 | 128 |
| Poultry (without skin) | 3 | 140 |
| Poultry (with skin | 8 | 178 |
| Poultry (ground) | 5 | 154 |
| Beef (ground) | 13 | 215 |
| Beef (sirloin top) | 13 | 215 |
| Beef (rump roast) | 20 | 278 |
| Beef (tenderloin) | 27 | 323 |
| Beef (t-bone, rib, NY) | 27 | 323 |
| Beef (porterhouse) | 27 | 323 |
| Pork (tenderloin) | 4 | 141 |
| Pork (chops, center cut) | 15 | 227 |
| Pork (ham, center cut) | 18 | 238 |
If you are using a charcoal grill, use the following information as a reference:
If you can't hold your hand directly above the grill for 2 seconds, hot coals are approximately 400° to 450° F. If you can't hold your hand directly above the grill for 3 to 4 seconds, medium coals are approximately 350° to 375° F.
If unable to grill, you can broil in a pan rack for close to 5-8 minutes.
If you wish to test the Trout with a knife, when tested the thickest part of the flesh should be barely opaque.